About Myself
Hey guys Yoshi here and I just wanna say... hi... that's it you can leave now. I'm just kidding don't worry here's a picture to make you happy.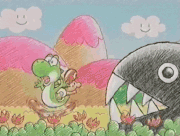 But anyways a little about myself. that is what this articles about right... right. Ok I'm 14 years of age and am a very how do you say it creative person. I as you can tell like yoshi's I love writing and Fairy Tail and when you put the two of those together you get this site therefor i thought this would be a great opportunity. I instantly fell in love with the creative and friendly community here some of the admins helped make some of my magics more reasonable. I'm the reason most of my friends are into anime, and what I'm saying by that is I'm a complete nerd.. and i accept that. I love video games and anime those being my favorite hobbies. Some of my favorite games are Elsword, Minecraft, Pokemon, and basically anything on steam. If you like my characters and have a suggestion leave it in my talk! I hope to see you there.
My favorite pages
Community content is available under
CC-BY-SA
unless otherwise noted.