"Endlessly judging you."


This article Viktor Grosso, is the sole property of Ashy and as such, please do not edit this article without my permission. If you wish to use or change this article in any beneficial way, please discuss with me...and be judged!
This page, Viktor Grosso, is currently under construction. Please bear with the changes made by the author.
"The most powerful weapon on earth is the human soul on fire."

Viktor Grosso
Kanji

ビクトー グロソ

Rōmaji

Bikutō Guroso

Alias

Blacksmith of the Eras (時代の鍛冶, Jidai no Kaji)

Characteristics

Race

Human

Birthdate

X759, May 10

Gender

Male

Age

32

Height

185cm

Weight

Unknown

Eye Color

Black

Hair Color

Black

Blood Type

B

Unusual Features

Chest Tattoo

Professional Status

Affiliation

Himself

Occupation

Blacksmith

Previous Occupation

Apprentice Blacksmith

Previous Partner

Nicholas Grosso

Base of Operations

Personal Status

Status

Active

Marital Status

Single

Relatives

Nicholas Grosso(Father)
Unnamed Mother
Grosso Family(Ancestry)

Magic

Magic
Weapons

Viktor Grosso (ビクトー グロソ, Bikutō Guroso) is a Blacksmith who hails from an isolated region within Fiore. However, his fame extends to various countries: even the likes of the Pergrande Kingdom praise him for his skills. Renowned by the name Blacksmith of the Eras (時代の鍛冶, Jidai no Kaji), the man is actually much more than meets the eye. He is yet another heir of the Grosso Family, a line of blacksmiths who have devoted their very existence to forging weaponry for the good of Earth Land. Following in their footsteps through the Ritual of Forge, Viktor has shown to have glimpses of doubt towards his purpose. His beliefs are constantly being challenged by the evil of the world of Magic, and have caused him to think: are his creations really for the benefit for the world? It is this question that has plagued him for numerous years, and it is this question he seeks to answer.
Appearance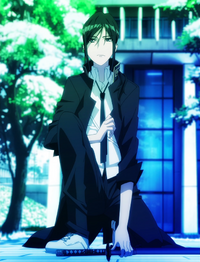 Burdened with responsibility, Viktor is a man who has let the world push him down. Therefore, his overall appearance has lost any sense of actual enthusiasm. He retains an aloof, bored and dull appearance, something which causes others to believe that he has no motivations or self-interest; part of this is true. The nature of his occupation, the nature of his family, and the overarching burden of his family's goals have made him incapable of expressing true emotion. This reflects in his physical stature, bland features, and even in his sense of fashion. His entire life has been so devoted to completion of another person's goal that he has forgotten his own perspective, his own lease on life.
As stated before, Viktor's appearance is that of a burdened young man. He appears to hold a heavy expression at all time, accentuated by his angular facial structure and contouring primarily. Furthermore...More Coming Soon...
Personality
History
Synopsis
Equipment
Main article: Weapons of Yagura
Magic and Abilities
Yagura (矢倉, Weapons' Storehouse):
Ritual of Forge (鍛の儀式, Tan'no Gishiki)
Brahmastra (梵天王の武装 (ブラーマストラ) Burāmasutora; Literally meaning "Armaments of the King of Heavenly Monks")
Sudarshana (奇瑞の空想 (スダーサナ) Sudāsana; Literally meaning "Vision of the Auspicious Omen")
Trivia
Behind the Scenes
Community content is available under
CC-BY-SA
unless otherwise noted.