Watering Mystic Palm
Kanji

神秘掌の散水

Information

Type

Caster

Users

A unique form of Healing Magic used by Kilana Mizubuchi. It uses water as a catalyst,and has a faster healing rate then standard healing magic. When used the water being used turns a light blue. It must be applied directly on the wound for the best effect. The user can also envelop people in water in order to heal them.
Spells
Healing Palm:
The user gathers water in their hand,and applies it to the damaged area. The caster can also apply this to themselves.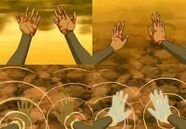 Mystical Sphere: Kilana gathers a large amount of water around the targert's body,and uses the water to heal them. This is a very advanced healing spell,as it is applied to the target's entire body. It does require a lot more magic power then the Healing Palm spell.
Community content is available under
CC-BY-SA
unless otherwise noted.