This article, Yuuta, is property of Morty16.
This page, Yuuta, is currently under construction. Please bear with the changes made by the author.
Yuuta
Kanji

優太

Rōmaji

Yuuta

Characteristics

Race

Human

Gender

Male

Age

13

Height

148cm

Weight

48Kg

Birthday

september 23

Hair Color

brown

Eye Color

brown

Blood Type

B

Professional Status

Affiliation

Panther Claws
Occupation

Mage

Previous Occupation

Martial arts student

Partner(s)

Personal Status

Status

Active

Magic

Magic
Weapons

Katana
Yuuta is a young mage bestfriend of Morty. 
Apparence
Yuuta has brown eyes, his hair is brown, he always wears glasses. Often, he wears a red sweater with black pants and running shoes, or only his red sweater and khaki pants instead of the black pants 
At house, in the guild or at training he also wears a  blue cloak or a red cloak over a black kimono with traditional Japanese sandals. 
 Personality
Yuuta is normally calm, reserved and in control, Rikuo can exhibit merciless conviction when challenged, making him very dangerous once provoked. He always train with Morty and Falcon and go out in jobs toghether.
History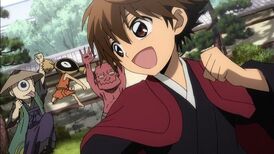 Yuuta comes from a wealthy family, his house was infested  by monsters and demons, growing up, Yuuta was surrounded by a wide variety of demons - many of whom watched after him, Yuuta with the help of the monsters he learned to transform into variety of monsters. After meeting Morty and Falcon he became their friends, and worked out with them.
Magic Abilites
Wind Magic: 
Flight: Through the use of Wind Magic, Yuuta is capable of lifting himself high up in the air, in order to move around freely, evade attacks and cross long distances in short times.
Wind Wall (魔風壁 Mafū Heki): Yuuta creates a wall of wind to defend himself 
Aerial Shot: Yuuta swipes his hand and levitates rocks in the area, which are then shot at the target.
Tornado: Yuuta makes a tornado to hit the target.

Transormation:
He is capable to transform into little monsters with they own ability and magic.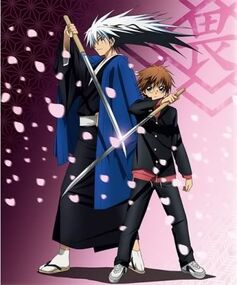 Yoru no Seishin: (夜の精神 yoru no seishin) is a spell that allow him to transform, he change his apparence,In this form, Yuuta is taller and older-looking, compared to his normal form. His eyes narrow and turn red. His hair grows long. His hair is long and protrudes out the back of his head. Like Nurarihyon, the top half of his hair is white while the bottom half of his hair is black. in this form is seen with a blue cloak over a black kimono. 
Darkness Magic
Dark Capriccio: A beam of darkness is fired from Morty's hands.
Dark Moment :is a spell that enables the user to cut the lights in the room they are in, plunging it into darkness, thereby allowing the user and any comrades they may have to attack, virtually unseen. Upon activation, the user's eye turns red.
Galley
Trivia
Yuuta's house is the main Panther Claws guild base.
Community content is available under
CC-BY-SA
unless otherwise noted.