This article, Yvonne Barrow, is property of FbAddict.
Yvonne Barrow
Kanji

イボンヌバロー

Rōmaji

Ibon'nu Barō

Characteristics

Race

Human

Gender

Male

Age

16

Birthday

February 1

Hair Color

Blonde

Eye Color

Green

Blood Type

O+

Professional Status

Affiliation

Phoenix Grave

Guild Mark Location

Left Palm

Occupation

Mage
Assistant

Partner(s)
Base of Operations

Phoenix Grave Building

Personal Status

Status

Active

Magic

Magic
Image Gallery
"Be careful, that little girl is more than capable of handling herself"

—
Michel Aspear
on Yvonne.
Yvonne Barrow
(イボンヌバロー
Ibon'nu Barō
) is an
Mage
of the
Phoenix Grave
Guild and the
master
's assistant.
Appearance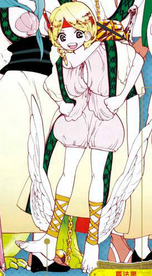 Yvonne is a young girl with a short stature and "no noticeable features of a woman" according to her master, referring to her small breasts and hips. She has blonde hair which is kept braided at her right side, tied with a piece of string, she also has a feather in her hair, which is secured by a headband. She has green eyes and dons a loose-fitting pink top which bares a slit down the middle - revealing her naval as well as matching pink harem pants. She does not wear shoes and dons her golden aera straps around her legs.
Personality
Yvonne is generally a very happy-go-lucky individual who is often seen playing around the guild, especially with Terry: with whom she shares a very strong bond and uses her magic to communicate with. She seems to have no issues with anyone in the guild, save for Michel who's overall womanising demeanour easily irritates Yvonne. She is commonly seen berating her master, pulling at his ear and often influencing nearby animals to attack him - purely comedic though.
Relationships
History
Synopsis
Magic and Abilities
Beast Tamer (ビーストテイマー Bīsuto Teimā): Yvonne uses beast tamer, a magic which is a variant of Sound Magic. It allows her to - using her whistle - to produce music which enchants animals, allowing her to converse with and influence them. She often uses this to communicate with Terry and give him commands.
Weapons & Items
Whistle Feather (笛羽 Fue Hana): Yvonne possesses a silver, feather shaped whistle which she uses to cast her Beast Tamer magic. It possesses an embrouchure hole in the midsection which allows her to blow into it to produce sound.
Aera Straps (エーラストラップ Ēra Sutorappu): Yvonne wears golden leg straps on each leg, both in a criss cross fashion running down her shin. They were said to have been purchased in Margaret Town
Trivia
Community content is available under
CC-BY-SA
unless otherwise noted.