Standard

 | 

Version 2.0

Zephryia
Kanji

ゼファーリア

Rōmaji

Zefāria

Information

Type
Users

Schneider (Standard)
Tona Matora (Version 2.0)
Zephyria (ゼファーリア Zefāria) is a form magical sword which is imbued with Wind Magic.
Description
Standard Zephyria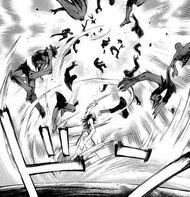 The standard Zephyria sword is an average length katana blade with an ornate guard and hilt. The hilt is wrapped in green fabric with the guard being akin to that of a rapier, being formed of a golden bird ornament with the wings being largely oversized and stretching upwards and backwards away from the blade. Along the length of the blade are orange lacrima in the shape of avian footprints - these lacrima are imbued with Wind Magic.
Zephyria 2.0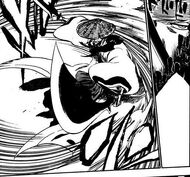 Zephyria 2.0, wielded solely by Tona Matora take the form of a pair of huge, black, curved scimitar-like blades with silver edges. The guards are rectangular with the corners cut off, decorated with linear patterns and cherry blossom glyphs and each sports a dark-blue hilt. From the hilt the blades possess red tassels.
Community content is available under
CC-BY-SA
unless otherwise noted.