This article, Zizz Rodd, is property of FbAddict.
Zizz Rodd
Kanji

ジズロッド

Rōmaji

Jizu Roddo

Alias

King of Weapons (武器の王 Buki no Ō)

Characteristics

Race

Human

Gender

Male

Age

25

Height

5'9"

Weight

156 lbs.

Birthday

April 4

Hair Color

Purple

Eye Color

Blue

Blood Type

A+

Professional Status

Affiliation

Tres Lleis

Guild Mark Location

Stomach

Occupation
Partner(s)
Base of Operations

Tres Lleis Building

Personal Status

Status

Active

Magic

Magic
Weapons

Various
Zizz Rodd (ジズロッド Jizu Roddo) is the Guild Ace of the Independant Guild Tres Lleis. He is rumoured to have originated from Fiore.
Appearance
Personality
Relationships
History
Synopsis
Magic and Abilities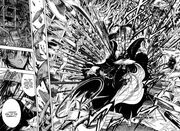 Requip (換装 Kansō): Zizz is a famed user of Requip, not specialising in any particular style but simply requipping hundreds of weapons at any one time. This magic is the reason for his moniker of the King of Weapons (武器の王 Buki no Ō), he often uses his magic in a form of 'peacock display', by summoning an arsenal of weapons from his sleeve, encircling his body in order to intimidate opponents with his skill.
Armada Spear (艦隊の槍 Kantai no Yari): Zizz opens his cloak and then proceeds to release several speared and bladed weapons from it using his requip magic. He is able to wield these individually or as a collective mass of weaponry.
Weapons Master: As a mage who specialises in requip Zizz is a master weapons user; being well versed in most if not all forms of armed combat ranging from swords, staffs, maces, chains and axes etc.
Weapons and Items
Major Battles
Trivia
Community content is available under
CC-BY-SA
unless otherwise noted.